The data-based K-Ostokset service uses a carbon footprint meter to show 3.5 million Plussa loyalty programme customers the climate impact of their grocery purchases.
"I would claim that knowledge helps us to act. This might be painful to begin with, as we become aware of the impacts of our choices. However, I believe that we can only change our behaviour – in terms of making climate-responsible choices or improving our wellbeing – on the basis of accurate data," says Minna Vakkilainen, Director of Customer Information at K Group and a member of TIEKE's Board of Directors.
Data can help us to change our behaviour related to issues such as our climate responsibilities and wellbeing.

Minna Vakkilainen
User tips and product recommendations
K Group wants to help its customers make choices that support both their wellbeing and the environment. The K-Ostokset service launched last year offers Plussa customers a view of their purchases in K Group grocery stores.
The service also shows customers how domestic and climate-friendly their grocery and retail purchases are.
In K-Ostokset, customers can set targets for a shopping basket with more domestic or environmental friendly goods. The service provides tips on achieving goals, and recommendations on adding more Finnish products to baskets.
"Customers have been asking for this type of service for a long time. It's fantastic that we can meet their needs. We're working closely with customers to develop the service. As well as providing data, our mission is to help our customers truly take action. Beyond setting goals, we need tips and recommendations on how to adopt new, everyday habits," Vakkilainen explains.
K-Ostokset already had over 100,000 users by early 2020.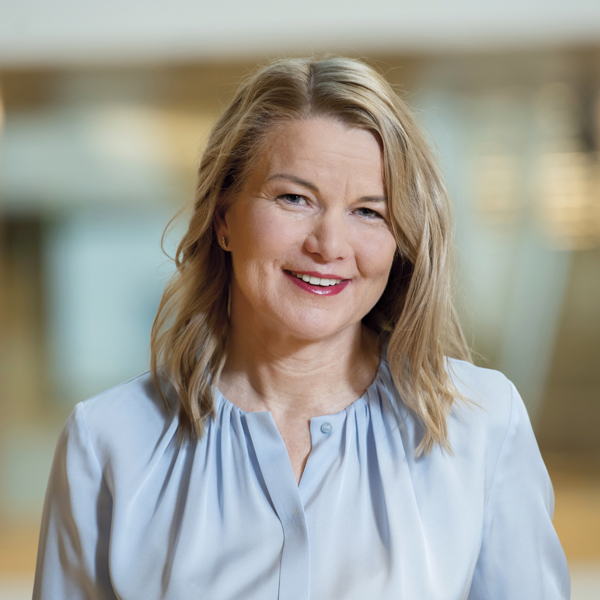 Companies and individuals together
"A sustainable world must be built by all stakeholders: society at large, businesses and individuals must all be active in this. Of course, companies have a major role to play," says Minna Vakkilainen, Director of Customer Information at K Group and Member of the Board of TIEKE.
More than 70% of K Group customers consider the K-Ostokset carbon footprint meter a very useful feature. This demonstrates the public's desire to enact change through personal choices.
"A single person or company cannot save the entire world, but when enough people act sustainably, the world is bound to become a better place. Data and technology have a major role to play — as does humanity," Vakkilainen says.
Ethically and safely
There is much talk about the potential of new technologies and data to solve humanity's problems, whether large or small, but such assets remain under-exploited in many respects.
Companies have a major role to play, because they have high amounts of useful data and the resources needed to build data-based services.
As customers, we understand the importance of data in our lives; according to a study by Accenture, a digital and technology expert service company, up to 83% of consumers want to share their data with companies in exchange for personalised service experiences.
Acting ethically is essential to utilising data. Companies must ensure that people's data is safe and that the customer's privacy is respected.
"For us at K Group, the key issue lies in ensuring that we are worthy of our customer's trust and always use data ethically, for the purposes for which we have our customers' permission," Vakkilainen sums up.
The article was originally published in Finnish in TIEKE's magazine Tiedosta 1/2020. Translation: Transfluent.