Cities look different on the street level than they do on maps. A company's office entrance and a delivery door may not be located on the same street. Road works block thoroughfares. Sometimes a delivery driver has to look for a space to park for several minutes, the delivery is late and the client disgruntled. Professional couriers fall regurarly victim to the final stretch of the logistics chain, the part that precedes physically handing over the goods to a client. We could call this part of delivery journey "the last metre" (as a homage to the concept of a last mile). Delays cost time and money, make both supplier and clients lose their cool and clog the traffic for everyone.

TIEKE and City of Helsinki-owned Forum Virium collaborate on the project Accessibility data in Logistics, tackling the thorny issue by developing an openly accessible data model. The model will transform street address-completing silent knowledge into free range open data. The objective is to streamline deliveries in a way that enhance both the competitiveness of logistics companies and amenity in cities. As the project is funded by City of Helsinki's own innovation fund, the development stage focuses on professional delivery services operating in Helsinki city centre.
From 2021 to 2022 the project constructs a service where drivers can check silent delivery knowledge relating to the destinations of their delivery assignments. This way, additional accessibility information is no longer reliant on an indivual driver's personal experiences. Data models built in the project are designed to integrate with logistics software. This entails that a driver can receive information not only on a street address, but also about roadworks, irregular delivery addresses, wideness of narrow gateways or for example where in the building a receptionist's desk is located.
"Logistics companies have demonstrated enthusiasm for our idea", says TIEKE's expert responsible for the project, Jari Salo. "In the old days, silent delivery knowledge was possible viewed more as a competitive edge to a company. Today we know, that regular small delays eat away at efficiency, customer realations, and even the job satisfaction of professional driver. The last metre has been a challenge for a long time, but especially the increase in need of delivery services during the pandemic has built intrigue."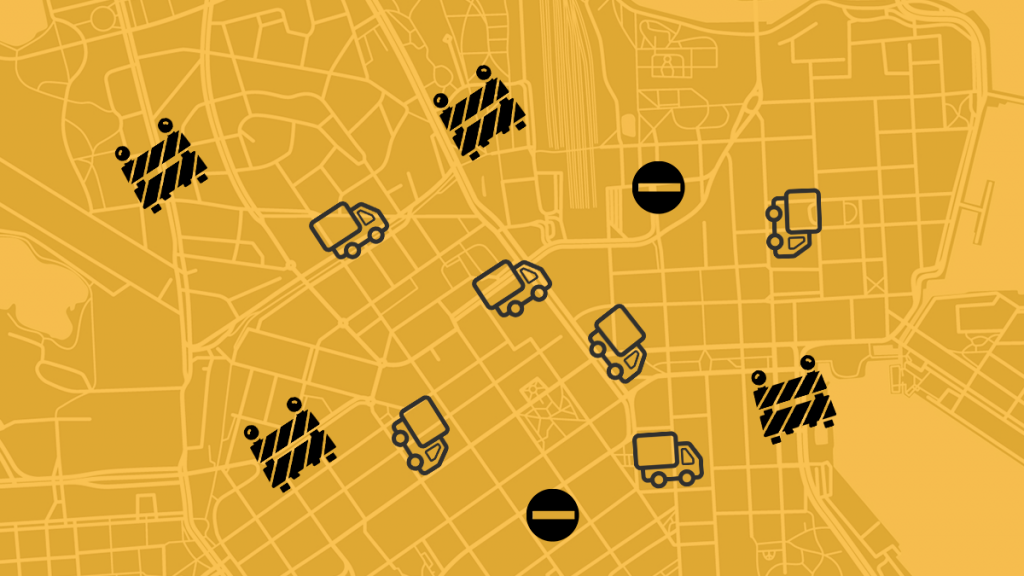 App ideas and ambitions
The future data model will be based on the OpenStreetMap-service. This global app can be utilised on an open source basis for commercial use as well, as long as map sources are credited. "Using OSM helps us to create an easily adaptible model. OSM is also widely used already, for example by the route and ticketing app of Helsinki Region Traffic. The project is piloted in central Helsinki, so it was a natural choice", Salo summarises.
Project development happens in close collaboration with 10+ logistics companies to ensure that the end product will genuinely serve drivers in their everyday work.
"So far we have found out, for example, that a driver should be able to add new data to the app without their work rhythm suffering. Let's take a situation, where a driver has to take a detour. After they have found one, they are unlikely to have time to add info in detailed writing to their app about said detour. A service must be easy and practical to use, it's the only way it actually gets used", Salo describes the design process..
To ensure user-centricity in the upcoming service, the project for example organises development workshops in collaboration with logistics companies. The project plans to also collaborate with companies based in central Helsinki, who have encountered an increase in delivery needs because of the COVID-19 pandemic. For example some shops in the city centre have only began to develop their online retail in recent years.